The #1 Incident Screen System
GawkStopper® Site Security System is the premier Incident Screen System. When it comes to protecting your accident or crime scene, don't settle for less. Go with the best, go with GawkStopper®!
Deploys Faster And Easier
Taking control of the scene is a first responder's top priority and GawkStopper® makes the process easy and more efficient than anyone else. Our patented system deploys in under one minute, is extremely compact, more sturdy than any competitor and is the only system on the market that is 100% American made.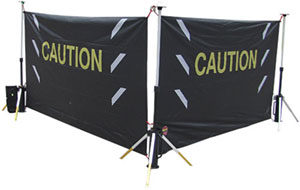 Handles Tough Environments
The prepared professional knows to always expect the unexpected. We designed GawkStopper® with that in mind. You can set it up in any configuration needed to provide privacy, including on uneven surfaces. Everything you need comes in it's convenient, attached nylon pouch (view contents). GawkStopper® is sturdier than the competition and more adaptable in inclement conditions. It's the portable incident screen system most capable of handling any unexpected conditions or circumstances you may encounter.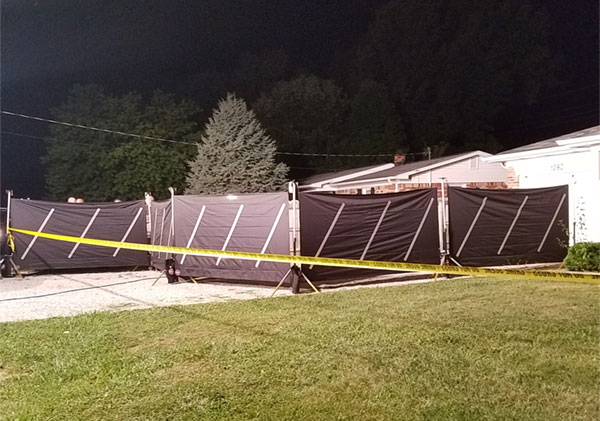 What Professionals Say About
GawkStopper®
"This system will provide first responders with a safer work environment and allow for more personnel to assist with the actual incident rather than holding up tarps or attempting to block the scene from onlookers"
"This is a very inventive product and much needed on our roadways today."
"The local Sheriff's Officers and the Indiana Police officers were very impressed and glad we were able to use them (GawkStoppers®) to protect the dignity of the deceased. Thank you for a great product" - Regarding Multiple fatality Collision on I-70 just west of Terre Haute July 18th, 2017
"I have used the GawkStopper® at motor vehicle crash scenes and it worked very well. It blocked the view of the passerby so that they could not see the crash scene."
"...we like your product and feel it would be a positive asset to our "bag of tools"".